DLPC is a full service component and equipment supplier since 2003.
Looking for that hard to get part ? Long Leadtime? Obsolete? MOQ too High?
Limitless access to suppliers. Making your job easier, sourcing made simple all the brands from one supplier.
No need to spend hours trawling different suppliers for components that fit your BOM bill of materials. Just send your BOM to us for a "total solutions" complete supply option - SIMPLE
You can get all the brands through us.
Semiconductors, IC's, Transistors & Diodes, Resistors, Capacitors
AD-DC Converters, DC Converters, IGBT Drivers
Plugs and Sockets, cable and connectors of all types
Enclosures, Boxes, Sensors, Fans AC & DC , Relays, switches, POE modules, Power Supplies
LCD Displays and Modules - Custom also - LED's , LED Displays, LED Drivers
---
News
The 1551 Series is one of Hammond Manufacturing's best sellers, and they have now extended the scope and capability of the family with the introduction of the new 1551W IP68 sealed versions. Launched with an initial five sizes, all available with a plain or flanged lid, the polycarbonate enclosures are suitable for use inside or outside. They are available in black and grey with a soft texture finish, all are fitted with PCB stand-offs in the base and the shaped silicone sealing gasket provides excellent protection against the ingress of dust or water, protecting the housed electronics. View the 1551W Series range
---
Distributed in Australia & New Zealand by DLPC Pty Ltd are pleased to announce the release Mornsun's new chip level B0505ST16-W5 fixed input,  0.5W , DC/DC converter and available now for your consideration and new designs. B0505ST16-W5 is a DC converter SMD device 10x7.5x2.5mm, with reinforced 5KVAC high isolation and trimable output voltages of 3.3V, 3.7V, 5V, 5.4V, available in a miniature SOIC16 package, with a control ON/OFF pin, that has a wide operating temperature of -55c to +125c. The device is designed to meet, AECQ-100(under testing), IEC / UL / EN62368(under testing) and meets EN60601-1,  2x MOPP, ANSI &...
---
Introduction of AC/DC Converter LD-R2 Series Due to the development of IoT (Internet of Things) and the 'smart home' concept, the requirement of household appliances on the safety and dimensions are more important than ever. MORNSUN ultra-compact AC/DC converter LD-R2 series, for example, 1 x 1x 0.7 inches of LD03/LD05 series, is the ideal power supply for applications with space limitation.  With the universal input voltage of 85-305VAC, an operating temperature range of -40~85℃, and an efficiency of 87%, the AC to DC converter LD-R2 series can be used for applications in commercial and industrial. The 2-Y-capacitors design, EMI class B...
---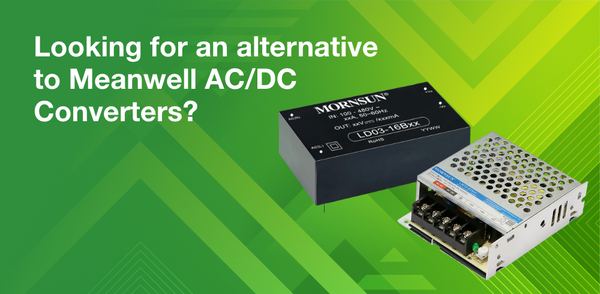 Download our cross-reference spreadsheet to find the right Mornsun AC/DC Converter. Cross-reference Spreadsheet Download
---
---