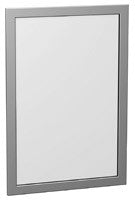 Window Kits - 1481WN4 Series
Product Code -
Features
Maintain environmental protection level of Type 4, 4X (for stainless steel) as noted
Window is 0.25" thick, UV resistant Polycarbonate.
Frame is heavy gauge steel, or 304 stainless steel with integral weld studs and compression clips.
Oil resistant neoprene gasket ensures a watertight seal.
Finished in ANSI 61 gray recoatable powder or natural brushed stainless steel.