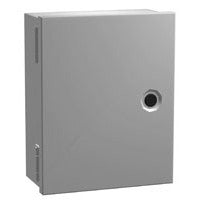 N1J Series
Product Code -
Type 1 Mild Steel Small Wallmount Enclosure. Hinge Door with Quarter Turn.
Application
Designed for indoor use to house controls, instruments and components not requiring oil-tight or dust-tight protection.
Standards
UL-50 Type 1
CSA Type 1
Complies with
Construction
Formed and spot welded from 16 gauge steel.
Formed steel covers close by use of slotted quarter turn latch.
Full swing door using butt hinges.
Through holes in back for wall mounting.
Bonding stud is provided on the door and a grounding stud is provided on the box.
Includes 14 gauge steel inner panel.
Finish
Enclosure and cover are finished in ANSI 61 gray powder coating.
Inner panel is finished in white powder coating